Green Building

Policy Goals
New Buildings and Renovations

Design and construct all new buildings and major renovations to a minimum LEED-Silver rating as well as meet the prerequisites of the Laboratories for the 21st Century Environmental Performance Criteria.
Design and construct all renovation projects with a cost of $5 million or greater (except acute care facilities) to a minimum LEED-CI Certified rating.
Outperform the energy requirements of a California Building Code by at least 20 percent on all new construction and major renovation projects (except acute care facilities) or meet UC's Whole Building Energy Targets.
Acute care/hospital facilities and medical office buildings shall be designed, constructed, and commissioned to outperform ASHRAE 90.1-2010 by at least 30%.
No new building or major renovation that is approved after June 30, 2019 shall use onsite fossil fuel combustion for space and water heating (except those projects connected to an existing campus central thermal infrastructure.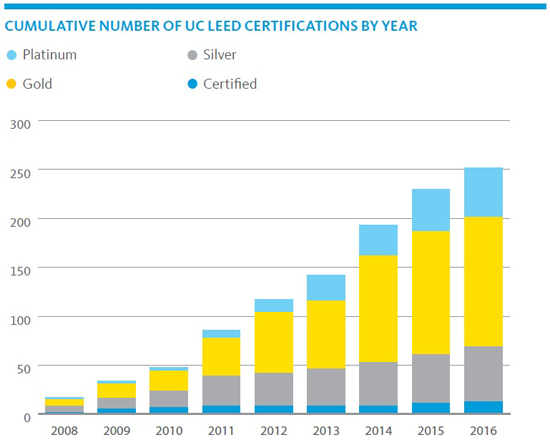 Progress Towards Goals
The University of California added over 2 million square feet of LEED-certified buildings in 2015-16; almost 20 percent of UC's building space is now LEED-certified. Systemwide, UC has 254 LEED certifications.
The Sustainable Practices Policy requires all new construction and major renovation projects to register with the Residential or Non-Residential Savings By Design Program. These energy efficiency programs, offered by California's four investor-owned utilities and the Sacramento Municipal Utility District, provide design assistance, energy analysis, life-cycle costing and financial incentives to help projects exceed the energy provisions of California's Building Code. In 2016, 17 projects received a total of $1.3 million in incentives. Those projects are projected to avoid nearly $200,000 annually in energy costs due to their energy-efficient design strategies.