Federal Governmental Relations
Alumni information
The University of California has an active alumni organization and network in the Washington, DC metro area. For more information about UC alumni activities:
Alumni Associations of the University of California
UC Office of the President Alumni & Constituent Affairs
Upcoming events for UC Alumni in Washington, DC
Univeristy of California Alumni Event with President Janet Napolitano
Monday, May 19, 2014
7:00 pm to 8:30 pm
UC Washington Center
1608 Rhode Island Avenue NW
Washington, D.C.
Register for the event

University of California alumni in Washington DC are invited to a networking reception featuring new UC President (and former Secretary of Homeland Security) Janet Napolitano. Here's your chance to meet the President and your fellow alumni from all ten UC campuses, see what's new at the UC-DC Center and meet a few current UC students. The DC Metro Area houses a robust network of over 6,000 UC alumni. President Napolitano is thrilled to head back to the Capitol in her new role and provide you with updates and thoughts about our great University.
This evening reception takes place on Monday, May 19, 2014 at the UC Washington Center at 1608 Rhode Island Ave NW. The reception runs 7:00-8:30pm, with remarks and Q&A with the President beginning around 7:30PM. An event price of $10 (plus handling) includes a ticket to the evening's reception and appetizers.
Don't miss this great networking opportunity. This event will sell out, and only a limited number of tickets are available, so please sign up quickly. Go Bears, Bruins, Aggies, Anteaters, Bobcats, Tritons, Gauchos, Highlanders, Banana Slugs, and UCSF!
Limit two tickets per transaction in order to provide access to as many attendees as possible. Please note there are no refunds for this event. 
This event is co-sponsored by the University of California Office of the President, UC Washington Center, and the Alumni Associations of the UC.
California State Society's Back to College Night
Wednesday, September 17, 2014
5:30 pm to 7:30 pm
Rayburn House Office Building Cafeteria
Capitol Hill, Washington D.C.
More information is available at: www.californiastatesociety.com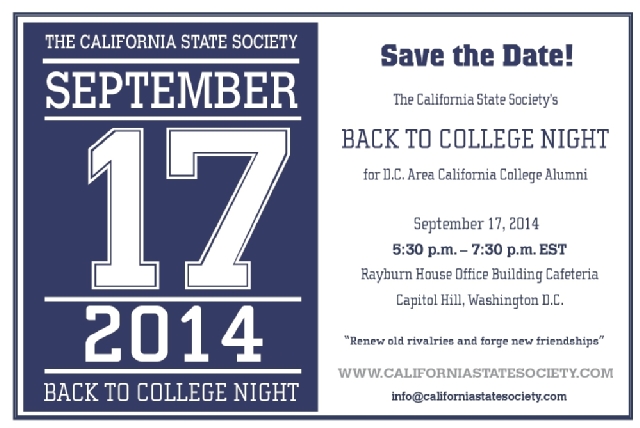 UC Regional Chapters in Washington
For our other campuses' Washington activities or for more information, please contact the UC Office of Alumni & Constituent Affairs.