About Sustainability at UC
Inspired by students' calls for action, the university's institutional commitment to campus sustainability began in June 2003, when the Board of Regents adopted green building and clean energy policy principles (pdf). In June 2004, President Dynes issued detailed guidelines for the Policy on Green Building Design and Clean Energy Standards. This comprehensive policy established the university as a leader in promoting environmental stewardship among institutions of higher education.
The policy has been revised several times, most recently in September 2013, and has expanded to cover the areas of sustainable transportation, climate protection practices, building renovations, sustainable operations and maintenance, waste reduction, environmentally preferable purchasing, sustainable food service and sustainable water systems. Reflecting its broadened scope, the policy's name was changed to the Policy on Sustainable Practices (pdf).
UC President Janet Napolitano has maintained the university's global and national leadership role in sustainability and expanded its scope beyond operations to include all aspects of the university through the Carbon Neutrality Initiative and the Global Food Initiative.
Sustainability policy program organizational structure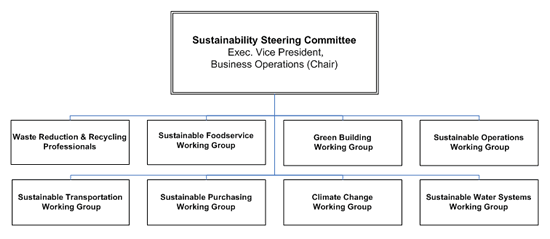 Sustainability Steering Committee
Recognizing the need to involve decision makers from all 10 UC campuses in developing systemwide sustainability policy and assuring its successful implementation, the Senior Vice President for Business and Finance first formed the Sustainability Steering Committee in 2003. The Sustainability Steering Committee was reconvened in 2006 to provide updates on progress toward meeting sustainability goals and guidance on future implementation. The Sustainability Steering Committee makes recommendations to the Executive Vice President for Business Operations.
The Sustainability Steering Committee is composed of a campus representative at the Vice Chancellor or Associate Vice Chancellor level, faculty representatives, a state representative, the Student Regent, and undergraduate and graduate student representatives.
The Sustainability Steering Committee meets twice per year.
Working Groups
There are eight Policy Working Groups that report to the Sustainability Steering Committee:
Green Building
Climate Change and Clean Energy
Sustainable Transportation
Sustainable Operations
Waste Reduction and Recycling
Sustainable Purchasing
Sustainable Food service
Sustainable Water Systems
Working Groups propose amendments and additions to existing policy to the Steering Committee, coordinate the implementation of their respective policy sections by sharing best practices and creating economies of scale, and provide the Steering Committee with updates on implementation progress and challenges.
Working Group members are appointed by the campus Sustainability Steering Committee member or the respective Working Group Chair. All campuses are represented on each of the working groups.
Working Groups meet several times each year by conference call. Working Group Chairs attend Sustainability Steering Committee meetings.