"…Now, this is a steep mountain, and we have to figure out how to reach the top. But we are the University of California. And there is no reason that UC can't lead the world in this quest, as it has in so many others."
– UC President Janet Napolitano, announcing that UC will be carbon neutral by 2025
UC's robust sustainability program covers all ten campuses and five medical centers. The systemwide programs are driven by a nationally-recognized comprehensive sustainability policy and leading-edge presidential initiatives. The Annual Report on Sustainable Practices provides a review of sustainability progress over the past year.
Best practices case study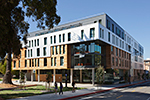 Challenging site conditions helped shape the climate responsive configuration of UC Berkeley's Maximino Martinez Commons, a 416-bed residence hall that showcases compelling architectural design, diverse unit plans, impressive sustainability achievements and sensitive responses to the local cultural context.
Sustainability brochure

Read UC: The living laboratory for sustainability (pdf)
UC Green on Flipboard

Blue + Gold = Green. The University of California is devoted to healthy people and a healthy planet. Read about our latest discoveries in sustainability and green living on Flipboard.
Subscribe to our Sustainability at UC Newsletter