We are a systemwide resource for academic excellence in research, teaching and public service.
The Office of the Provost builds on the energy and academic strength of UC's campuses to enhance the system's educational impact. We help recruit and retain outstanding professors and provide them with the support they need to succeed. We promote excellence through programs that help prepare, recruit and support undergraduate, graduate and professional students. We manage programs that help position UC and California as engines of economic, social and cultural development. And we ensure that UC remains on the cutting edge of innovation in teaching and learning by supporting new academic initiatives.
Provost and Executive Vice President
DEPARTMENTS/DIVISIONS
Coordinates policies and programs regarding faculty recruitment, diversity, retention, academic freedom, responsibilities and advancement.
Evaluates and plans for student enrollment, degree achievement and systemwide academic program development and manages systemwide academic and publishing programs.
Top Destinations
Manages and evaluates student and teacher preparation programs and works with the CCC and CSU systems to enhance the accessibility of university degrees.
Provides information and analysis in support of university management, planning and decision-making.
Top Destinations
Coordinates systemwide policies for technology transfer, intellectual property and graduate study and manages a portfolio of grants.
Maintains UC's admissions process and portal, oversees student financial aid policies throughout the system and works closely with community colleges and high schools on courses and criteria for admission to UC.
Top Destinations
Contact Us

Academic Affairs
University of California
Office of the President
1111 Franklin St., 12th Floor
Oakland, CA 94607

Innovative Learning Technology Initiative (ILTI)

ILTI aims to expand the use of innovative and high-quality online instruction to improve student access to high-demand courses.
Become an Advocate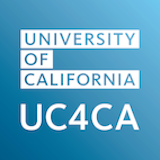 Learn about events, initiatives and resources that will help you support the future of UC.