Sustainable Procurement
Policy Goals
100% compliance with Required Level Green Spend criteria within three fiscal years of the addition of those products and/or categories to the Guidelines.
25% Green Spend as a total percentage of spend per product category; target to be reached within three fiscal years after a category is added to the Guidelines.
25% Economically and Socially Responsible Spend as a total percentage of addressable spend; target to be reached within five fiscal years of adoption of this section in the Guidelines.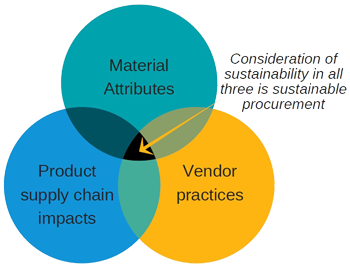 Procurement has a key role in UC's climate and sustainability commitments, including the Carbon Neutrality Initiative, Global Food Initiative, Zero Waste goal and water goal. As such, sustainable procurement across the UC system focuses on aligning systemwide buying power with UC's strategic goals to procure products and services in a conscious, sustainable manner.
This collaborative effort includes university staff throughout every step of the procurement process (faculty, staff and students) working together to address the university system's needs. Sustainable procurement focuses on planning, sourcing, and buying smart; repurposing where possible, and providing environmentally preferable, as well as social responsible options to campus and local communities. This requires a more holistic strategy throughout the procurement process.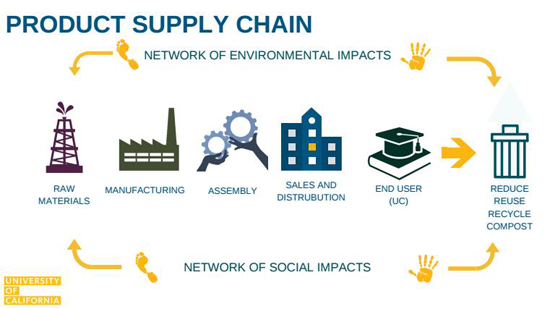 Sustainable Procurement Working Group
UC Procurement has assembled a working group with a focus on driving results within the UC community, its resources, industry, and technologies. The Sustainable Procurement Working Group is tasked with leading university sustainable procurement efforts by both the UC Sustainability Steering Committee and Procurement Leadership Council.
Sustainable Procurement includes, but is not limited to, environmental sustainability, social sustainability, social equity, diversity, and social justice. To advance these aims, the working group:
Supports Procurement Leadership Council activities by developing and recommending objectives, initiatives and projects reflecting the subject matter of sustainability in procurement. This includes updates to policy, processes, reporting, standard contracts, support systems, and training.
Supports the development and delivery of best practices in sustainable procurement at each of the UC locations.
Supports Sustainability Steering Committee activities by developing and recommending updates to the UC Sustainable Practices Policy as they relate to sustainable procurement. Coordinates annual reporting to the Regents on progress towards the sustainable procurement activities in the UC Sustainable Practices Policy as well as updates on group activities.