Climate Change and Clean Energy
Policy Goals:
Reduce greenhouse gas emissions to year 1990 levels by 2020.
Achieve climate neutrality for scope 1 and scope 2 sources by 2025.
Achieve climate neutrality from specific scope 3 sources (as defined by the American College and University Presidents' Climate Commitment) by 2050 or sooner.
Reduce each location's energy use intensity by an average of at least 2% annually.
By 2025, each campus and health location will obtain 100% clean electricity.
At least 40% of the natural gas combusted on-site at each campus and health location will be biogas by 2025.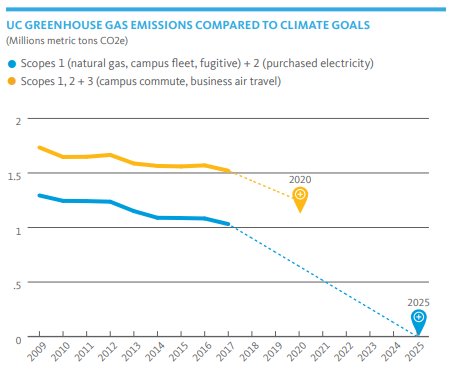 Progress Towards Goals
UC reduced its greenhouse gas emissions by almost five percent in 2017 compared to 2016, despite campus growth. 
Generating more on-site renewable energy than any other university in the country, UC is now a national leader in on-site renewable energy. In October 2018, it was recognized by the Environmental Protection Agency's Green Power Partnership for being the fifth-largest on-site green power generator in the country, with over 81 million kilowatt-hours produced annually. UC added an additional five megawatts of on-campus solar in 2018.
In order to meet climate neutrality by 2025, UC will need to reduce scope 1 and 2 emissions by more than one million MTCO2e, which is the equivalent of roughly 395,000 tons of waste being recycled instead of being sent to landfill, or the annual energy use of 121,000 homes.
Strategies for Implementing UC's Commitment to Climate Neutrality
2011 report by a team of campus and systemwide leaders focused on proactive investments in carbon abatement.