Chief Investment Officer of the Regents
The Carbon Footprint of the UC Public Equities Holdings
The total carbon footprint for the $32 billion public equity portfolio of the University of California is 6,514,671 tons of CO2e or 201.8 tons of CO2 per $1 million, according to MSCI analysis. That carbon footprint, as of Aug. 31, 2016, compares to 5,800,268 tCO2e and 179.6 tCO2e/$1M for a portfolio made up of the MSCI world equity index.
As a signatory of the Montreal Carbon Pledge, the Office of the Chief Investment Officer for the University of California took the step of measuring its carbon footprint in order to better understand the carbon risk associated with its equity portfolio. A global owner, UC encourages all corporations to fully disclose their carbon emissions.
The following charts show the carbon footprint of UC public equities portfolio compared to the MSCI ACWI world index.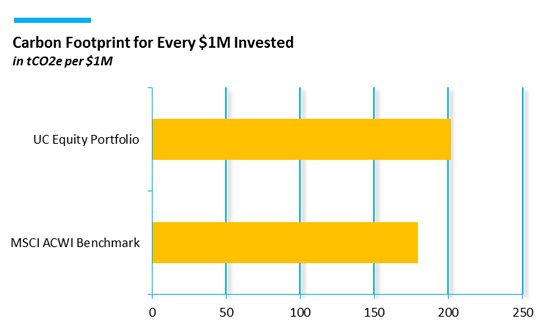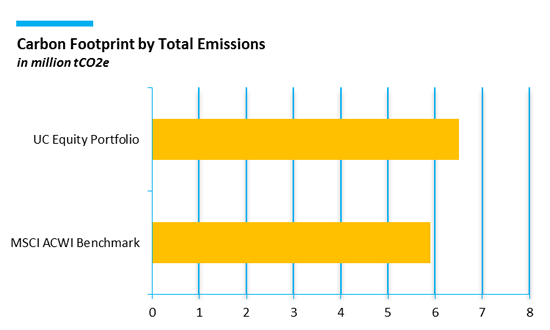 What is the carbon footprint of an investment portfolio?
The carbon footprint of an investment portfolio measures the amount of greenhouse gas emissions that publicly traded companies, whose shares are held in the portfolio, emit from their operations. The carbon footprint of UC public equity holdings was measured as of Aug. 31, 2016, and is based on the latest carbon dioxide emissions data for companies' direct emissions (scope 1) and indirect emissions from purchased energy (scope 2). Calculations are made on the UC's portfolio of listed equities, based on weightings of the relative size of equity holdings.
Why perform carbon footprinting analysis?
The University of California is a signatory to the Montreal Carbon Pledge. The United Nations-supported Principles for Responsible Investment, with the support of the United Nations Environment Programme Finance Initiative, launched the Montreal Carbon Pledge on Sept. 25, 2014, at the annual PRI in Person conference in Montreal. The Montreal Carbon Pledge initiative asks signatories to measure and disclose the carbon footprint of their investment portfolios on an annual basis as a step towards better understanding and management of climate change-related risks and opportunities.
Carbon footprinting of a portfolio is a greenhouse gas accounting of investments that enables quantification and comparison of the level of carbon-related risks equity investments might be subject to in the future when greenhouse gas emission externalities may be repriced in global markets. Carbon footprint analysis, at its best practice, can help institutional investors evaluate which of the corporations whose equities investors are holding in their portfolios have the highest emissions and therefore may be exposing a portfolio to greater or lesser climate risk.
What did the OCIO learn from carbon footprinting its public equities portfolio?
The completion of carbon footprinting analysis of the UC public equities portfolio for 2016 highlights that the largest holdings in our portfolio are in individual companies known to have low carbon emissions profiles. This year's carbon footprinting analysis highlighted the U.S. and global utilities sector as the largest source for carbon emissions exposure among individual company securities in our portfolio.
How does the 2016 carbon footprint compare to last year's carbon footprint?
This year marks the second time that the carbon footprint of UC public equities portfolio has been estimated and published since the university joined the Montreal Carbon Pledge in February 2015. Both total carbon emissions and carbon emissions per $1 million invested are estimated to be higher in 2016 compared to 2015. Specifically, the total carbon emissions estimate for 2016 is approximately 16% higher than last year's total carbon emissions, while this year's carbon emissions per $1 million invested estimate is 6.5% higher. There are several caveats that need to be considered in interpreting this year's estimates because the source materials for greenhouse gases estimation methodology has shifted on a year to year basis.
Our public equities portfolio grew in size between 2015 and 2016, which may partly account for the larger total carbon emissions for 2016. In addition, the number of securities in our portfolio for which there was no emissions data, either from company disclosures or estimation by MSCI, declined by 50% from 671 securities in 2015 to 330 securities in 2016. It is reasonable to assume that this year's survey, since it is more reporting based, differed from past efforts and is likely to be more accurate than past estimations. The total number of securities in our portfolio that belonged to firms that publicly reported emissions data increased by 18% from 2015 to 2016 while the total number of securities for which MSCI estimated emissions data decreased by 9%. Changes in external manager selection and use of well-accepted global indexes contributes to the overall holdings level in the utilities sector.   
Carbon footprinting analysis is still at an early developmental juncture. It is our hope that with time and with initiatives like the Montreal Carbon Pledge, carbons emissions data disclosures by publicly listed companies will become customary and be more consistent across industries and companies.
What are other limitations of carbon footprinting?
The exercise of carbon footprinting does not tell investors how well companies held in the portfolio are transitioning to a low carbon society because future plans and strategies are not measured in this year's carbon footprint tabulation. Transition is based, in larger measure, on the level of investment in climate solutions which is not revealed through a carbon foot-printing assessment.
Finally, the lack of publicly reported corporate greenhouse gas emissions data hinders the ability of investors like the University of California to fully and accurately assess the carbon risk in investment portfolios.
In addition to gaining a better understanding of the carbon risk in the University of California's equity portfolio are there other reasons to perform, and publish, this analysis?
It is the hope of the signatories of the Montreal Carbon Pledge that widespread measurement and disclosure of portfolio carbon footprints among investors will ultimately lead to a greater level of emissions and carbon risk disclosure among publicly listed companies. This year's reporting demonstrates that this engagement is succeeding as more portfolio companies reported their greenhouse gas emissions data in 2016. The UC decision to undertake a portfolio carbon footprint analysis is rooted in its support for the goals of the Montreal Carbon Pledge. Clearly, if a firm is not calculating the carbon emissions from its operations and energy use, then that firm is unable to assess the level of climate risk posed to investors in their businesses. The U.S. Securities and Exchange Commission (SEC) recognized the financial impacts of climate change when it issued Interpretive Guidance on climate disclosure in 2010. The Guidance outlines reporting requirements on "material" regulatory, physical, and indirect risks and opportunities related to climate change.
The UC OCIO will continue to study and learn more about the technologies available to report on its carbon risk.