Information Technology Services
Calendar highlights
Always a Student
June 13, 2014
UCLA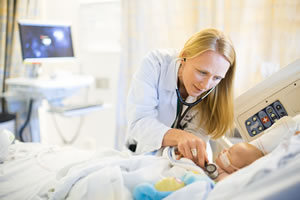 I love my visits to UCLA because I always feel like I am the student, learning more about higher education. UCLA has long been a thought leader in student engagement and success, which is being enabled more and more through data and analytics. At UCLA Health, I visited two innovation units to learn about best practices that may help advance the overall UC health enterprise. The Center for Advanced Surgical and Interventional Technology (CASIT) is a UCLA research facility and laboratory advancing state-of-the-art of surgical and interventional technology. The Institute for Innovation in Health brings together innovators from across UCLA to deliver transformational change in healthcare. I missed the Institute's LA Innovates event a week earlier but was able to catch up with Chief Innovation Officer Molly Coye. I admired Molly while in the healthcare industry, and was thrilled to finally meet her and discuss new collaborations in patient care.
---
UC-Oracle Day
May 6, 2014
Redwood City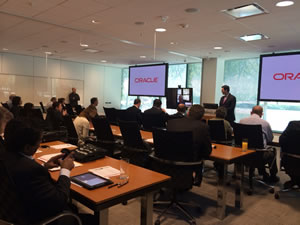 People ask me about the "vendor days" that I've been setting up. In the monthly Q&A I explained that large organizations usually have a set of vendors that are more strategically relevant in its long-term plans. It is good practice to do frequent information sharing and relationship building with those technology providers. In addition to helping us simplify our technology landscape, it helps Procurement do what they need to leverage the size and scale of UC to gain the best pricing and terms and conditions. Oracle Day was the latest event and was held in Redwood City, CA, which is their global headquarters. Over 30 people from UC participated, representing twelve locations. There was a great set of speakers and presenters, as you can see in the agenda. Oracle chairman, Jeff Henley, is a Santa Barbara and UCLA grad and kicked off the day with a stirring speech for higher education.
---
The Campus Vibe
April 2014
Merced, San Francisco, Riverside, Santa Barbara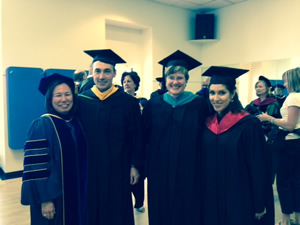 I really enjoy visiting the campuses. It's not just about being closer to students or what's going on in the classroom. It's about the energy there and what's going on all around - the activities, the meeting places, the bikes (UCSB and UCD especially!). Each campus has its unique characteristics and vibe. I just appreciate the opportunity to "hang out" for the day, and of course get some work done. During April, I visited Merced, San Francisco, Riverside, and Santa Barbara, and learned something about each campus - its history, challenges, and aspirations. At UCM, we sat with the chancellor and discussed the role IT will play in the tremendous growth the campus expects. At UCSF, we spoke with researchers about computing power and the shrinking costs of sequencing the human genome. At UCSB, I heard about successes and challenges eight months into their significant consolidation of IT across the campus. And in Riverside, I was fortunate to attend the Investiture of Chancellor Kim Wilcox (see photo). With every visit I learn something new about our university and receive good input on how we are doing as an IT community and how we can contribute more.
---
Games, Technology, and Assessment
April 29-30, 2014
CRESST Conference, Redondo Beach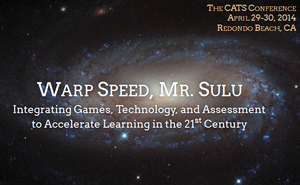 For 40 years, the UCLA Center for the Study of Evaluation (CSE) and, more recently, the National Center for Research on Evaluation, Standards, and Student Testing (CRESST) have been at the forefront of efforts to improve the quality of education and learning in America. I was invited to their event this year and was among 200 attendees from across education segments discussing the progress and promise of technology's impact on education and learning. There were many compelling presentations over the course of the day, including Zoran Popovic from the Center for Game Science at University of Washington, and Alan Gershenfeld, CEO of E-Line Media on big ideas in games for learning. The conference was "cognitively deep" at times, and I got some great information. I also connected with people from UCLA on learning technologies and healthcare. This is why it makes sense to attend conferences over the course of a year - to learn what's new, to increase your network, and to be inspired! Make sure you have something in your development plan for 2014.