Information Technology Services
Calendar highlights
IT Innovation Awards
August 5, 2014
UCSF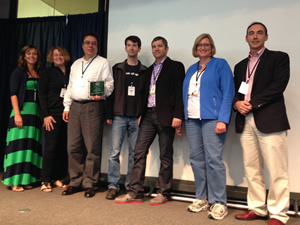 I attended the annual UC Computing Services Conference held this year at UCSF, August 4-5, and also had the pleasure of presenting the UC IT Leadership Council's Sautter Awards for Innovation in Information Technology. Be sure to read the announcement and look over all the applications on the Sautter Awards Program website. (You can watch a video of my opening remarks at the conference.) UC IT is doing a lot of great work! The photo shows a UCD team receiving a Sautter Golden Award for their project, Building a Service-oriented Culture. Pictured are (l-r) Caryn DeMoura, Ahna Heller, Minor Rojas, Arnaud Menut, Quico Gonzalez, and Anita Nichols, and me. I'd like to encourage everyone to begin thinking now about projects to submit for Sautter awards next year. Let's see if every UC location can be represented in the application pool!
---
Visit to Cisco
July 31, 2014
UC Merced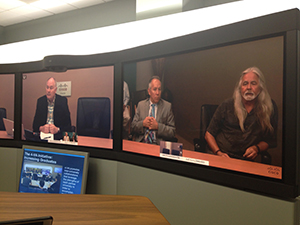 UC Merced CIO Ann Kovalchick invited me to join the Merced leadership in a briefing at Cisco to discuss developing a strategic direction for technology to align with UCM's 2020 long-range plan. All UCM vice chancellors and deans participated, brainstorming for an entire day about the future of technology for the campus, as well as technology's role in the residential higher education experience: How does data analytics help measure student success? How can technology support the expected increase in graduate students? How do we build the infrastructure to support the growth of the research enterprise? Cisco provided expert speakers and demonstrated several collaboration-based technologies being used in different work settings. Some of their cool new products include touchscreen video phones (replacing old handsets on the desk) and web conferencing equipment that moves, pans, and zooms the camera around the conference room, based on whoever is speaking. In the photo, Mark Aldenderfer, Dean of Social Sciences, Arts and Humanities appears on the right, along with personnel from Cisco, while using their video presence equipment.
---
Always a Student
June 13, 2014
UCLA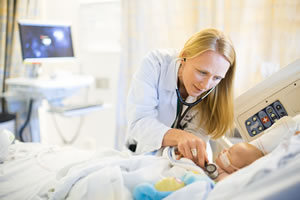 I love my visits to UCLA because I always feel like I am the student, learning more about higher education. UCLA has long been a thought leader in student engagement and success, which is being enabled more and more through data and analytics. At UCLA Health, I visited two innovation units to learn about best practices that may help advance the overall UC health enterprise. The Center for Advanced Surgical and Interventional Technology (CASIT) is a UCLA research facility and laboratory advancing state-of-the-art of surgical and interventional technology. The Institute for Innovation in Health brings together innovators from across UCLA to deliver transformational change in healthcare. I missed the Institute's LA Innovates event a week earlier but was able to catch up with Chief Innovation Officer Molly Coye. I admired Molly while in the healthcare industry, and was thrilled to finally meet her and discuss new collaborations in patient care.
---