Information Technology Services
Email Phishing Attack
Date: March 15, 2012
To: UCOP Community
From: Shirley Bittlingmeier, Director, IT Infrastructure Services, ITS
This morning an e-mail phishing attempt was directed at UCOP. The subject line may read "University of California Internet Update." Do not click on the link at the bottom of the e-mail!
(Phishing is a fraudulent attempt to electronically acquire sensitive information such as usernames, passwords, and IDs by masquerading as a trustworthy individual or entity.)
Stay on the alert for phishing attempts. Some are very sophisticated and the e-mail may appear to be sent from someone you know. You should always be suspicious of any e-mail asking for personal, user account information or account verification. Remember that Service Desk will never ask you for such information via e-mail. Delete such e-mails immediately and empty your trash.
An example of today's phishing attempt is shown below.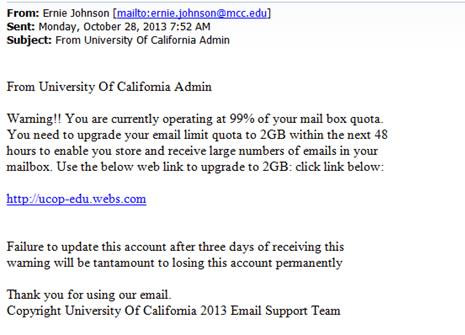 If you have questions, please contact the Service Desk.