Talent Management & Staff Development: What we do
Talent Management & Staff Development is responsible for providing the tools and support for leaders to effectively align the University of California's human capital with organizational objectives. We research and gather various best practice principles in an effort to identify opportunities to better serve UC. We are a systemwide unit that oversees training and development, talent acquisition and executive recruitment, and all their associate processes, to best optimize the performance of each employee at UC.
The Talent Management Continuum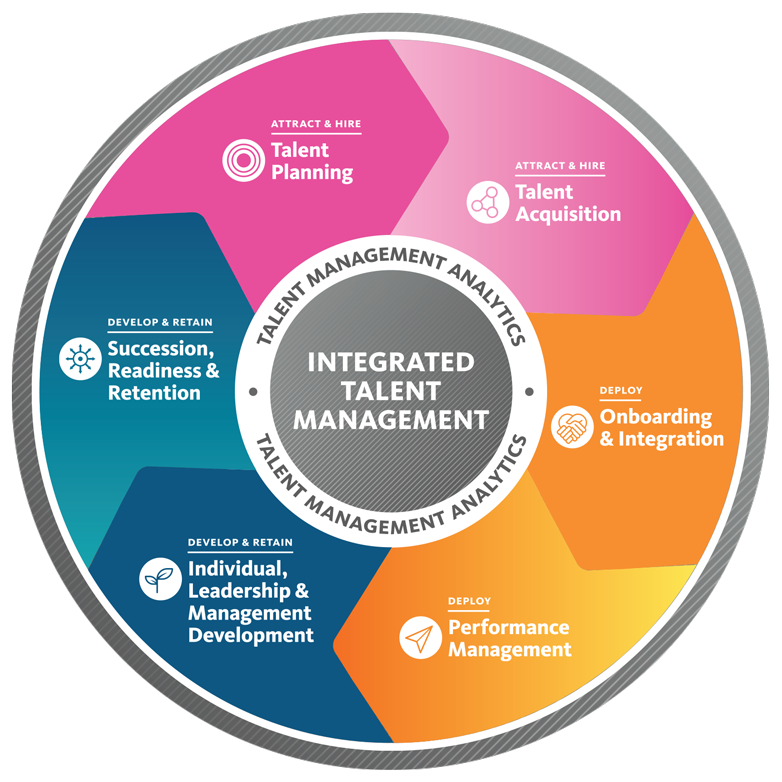 Talent Management and Staff Development work across the UC system in collaboration with learning and development groups to deliver training programs that best support all leadership levels. The programs listed below are currently available across UC. If you'd like to learn more about the below programs please contact your local learning and development representative.
The UC Management Development Program is a dynamic systemwide training program designed to equip mid-level managers of managers/supervisors and/or managers of complex programs or projects with the tools to enhance and strengthen their leadership capabilities in the UC core competencies of people management, employee engagement, and change management.
Management Skills Assessment Program (MSAP)
The Management Skills Assessment Program (MSAP) is designed to strengthen the engagement and preparation of high-potential UC supervisors, managers and professionals in an intensive, off-site assessment center experience for early career managers.
Sexual Harassment Prevention Training
Effective January 1, 2005, California law (AB1825) requires two hours of mandatory sexual harassment prevention education for all supervisory employees. In addition to staff supervisors, most academic employees (including all faculty) have been identified as having supervisory authority for the purposes of this law, and as such, are required to receive the training. New supervisory employees must receive the training within six months of their assumption of a supervisory position.
Additional development classes can be found in the UC Learning Center.
The UC–CORO Systemwide Leadership Collaborative will be offered to 40–45 administrators from UC campuses to form a Northern California cohort and a Southern California cohort. The program will include campus explorations where participants will interview campus leaders and have the opportunity to visit and learn about the institution. This provides a direct opportunity to get a sense of the physical, intellectual, administrative and cultural nature of multiple University of California campuses.
The People Management Series and Certificate is a systemwide program for all People Managers. It consists of select Core and Elective courses, including local and systemwide programs and eCourses, as well as in-person learning experiences, with topics ranging from Performance Management, to Managing People, Operations, Change Management and Communications.
The Systemwide HR Fellows program is part of a multidimensional Talent Management strategy designed to attract and develop highly capable, competitive and career-focused individuals, thus creating a pipeline of exceptional talent familiar with University's Human Resources operations and the Systemwide HR Office's foundational areas: Compensation, Talent Management, Labor Relations, HR Policy, HR Compliance, Pension Operations, Employee Relations, and Benefits.