Federal Governmental Relations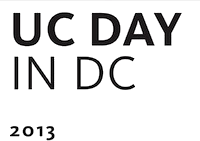 UC Day in DC, May 20-22, 2013, is the University of California's annual federal advocacy day.  This year's theme will focus on increased federal support for Graduate Education and Research.  
Details and resources for the event are below.
Graduate Education and Research is vital to UC, California and the nation. These brochures and fact sheets highlight their impact.
UC has a profound impact on California and the nation. These brochures highlight our impact.
There are many sites and attractions to visit in DC. These resources provide information to assist in navigating and exploring the city.
If you are interested in learning more about your campus's participation in UC Day in DC we encourage you to contact your Federal Governmental Relations Representative at your campus.